1 Day Acuvue Moist Multifocal (30 Pack)
Availability : Custom Order

Positive-power lenses (+) are available for multifocal lenses.

Multifocal lenses are manufactured specifically for each individual. Some prescriptions may take up to four weeks (in rare cases longer) to be dispatched.
Please be aware of this before purchasing.

We recommend you order your Multifocal lenses well in advance.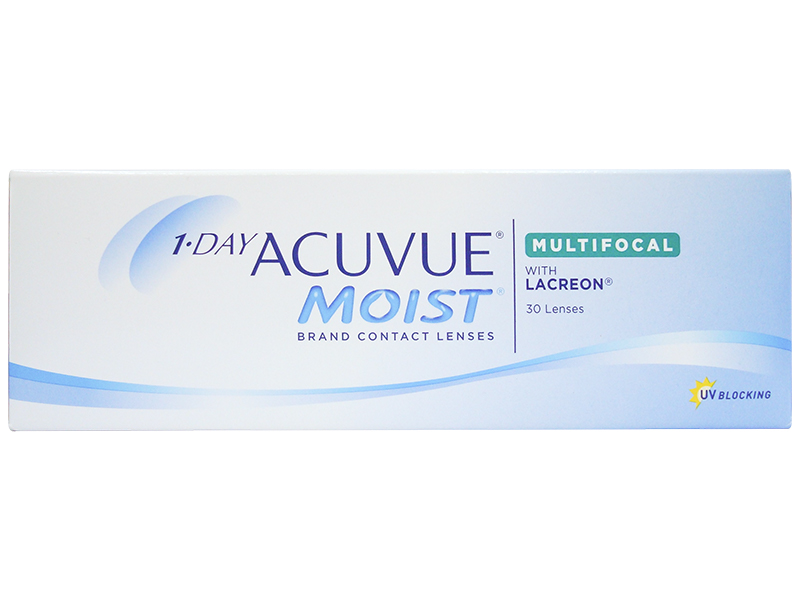 Additional Information
Type: Daily disposable Multifocal
Packaging: 30 lenses per box
Content: 42% Etafilcon A & 58% water
Manufacturer: Acuvue
Description
1 DAY ACUVUE MOIST MULTIFOCAL contact lenses bring you optimum comfort and ease-of-use for Presbyopic eyes.
A unique back-curve design allows the lenses to stay precisely central on the surface of your eye. This keeps the contacts where they need to be, ensuring sharp, accurate vision.
These contacts are perfect for anyone with Presbyopia who wants to enjoy the convenience and ease of daily disposables. A long-lasting cushion of moisture reduces dryness symptoms, allowing for maximum comfort.